Welcome to the Star Trek: The Farthest Star Wiki
A wiki encyclopaedia dedicated to the Star Trek fan fiction series Star Trek: The Farthest Star. Here you'll find information on all the characters, places, ships and events that have featured in Star Trek: The Farthest Star.
Latest Release
---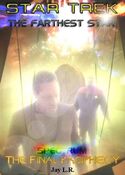 Jake Sisko has long been haunted by nightmares connected to his father's "joining the Prophets". However, as the twentieth anniversary of that day approaches Jake's dream become much more and he is set on the path of prophecy and change with the fate of an entire people in his hands.
(Completed)

"No Refunds": Letum is bleeding to death and is faced with the greatest fear of any Ferengi: having to refund a fee. more...
The information on this wiki is specific to the Star Trek: The Farthest Star fan fiction universe and melds canon, non-canon, and fanon information. The information here does not have any impact on Star Trek canon.
Ad blocker interference detected!
Wikia is a free-to-use site that makes money from advertising. We have a modified experience for viewers using ad blockers

Wikia is not accessible if you've made further modifications. Remove the custom ad blocker rule(s) and the page will load as expected.